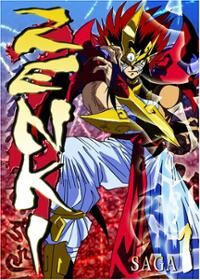 Kishin Douji Zenki (鬼神童子ZENKI, lit. "Demon God Child Zenki") is an anime based on the manga series written by Kikuhide Tani and illustrated by Yoshihiro Kuroiwa. It was adapted by Studio Deen. Enoki Films handles the English language version of the anime.
The series' is often also referred to as Zenki or KDZ and its Japanese title is commonly mistranslated as "Demon Child Zenki" or "Demon Prince Zenki".
English Voice Cast
Cast
Additional Cast
Additional Voices
Credits
Trivia
The following characters' names have been mispelled, the correct spelling has been specified beside them:

Zenki (Demon God or Kishin Zenki)
Little Zenki (literal translation of Chibi Zenki)
Granny (Grandmother Saki, Saki Enno or Enno Saki)
Jukai (Jukai Enno or Enno Jukai)
Professor (Professor Kuwaori)
Kazue (Kazue Hayami or Hayami Kazue)
Sohma Miki (Miki Souma or Souma Miki)
Roh (Dog Deity or Inugami Roh)
Akira (Akira Gotou or Gotou Akira)
Rupapa (Lulupapa)
Community content is available under
CC-BY-SA
unless otherwise noted.