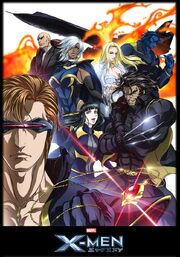 X-Men (エックスメン) (DVD title: X-Men: Animated Series) is an Anime series consisting of 12 episodes. It aired on Animax from April 1, 2011 to June 24, 2011. A preview trailer was released on February 18, 2011, featuring mutants such as Cyclops, Wolverine, Storm and Beast. It premiered in the United States on G4 on October 21, 2011. The entire series was released on DVD in the United States on April 24, 2012.
Japanese Voice Cast
English Voice Cast
Main Cast
Secondary Cast
Minor Cast
Additional Voices
Community content is available under
CC-BY-SA
unless otherwise noted.