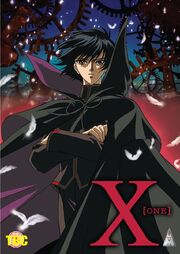 X, also known as X/1999 is a Japanese anime based on the manga created by CLAMP. The series was produced by Madhouse and directed by Yoshiaki Kawajiri.
In anticipation to the series premiere, X: An Omen (エックス - 前兆) was released direct-to-DVD on August 25, 2001. It was written and directed by Kawajiri. The series premiered October 3, 2001 on WOWOW satellite television and finished on March 27, 2002, totaling twenty-four episodes.
The series was first licensed in North America by Pioneer Entertainment in March 2002. Geneon collected the series and the OVA in a total of eight DVD volumes released between September 24, 2002 and November 25, 2003. In September 2009, FUNimation Entertainment announced that it had acquired the rights to the anime series and OVA. They were re-released them in a DVD box it on June 15, 2010 using the original Geneon dubbing for the English-language audio track.
The music for the series was composed by Naoki Satō with two original soundtracks being released. The TV series uses two theme songs: "eX Dream" by Masatoshi Nishimura is used as the opening theme, while "Secret Sorrow" by Kohei Koizumi is used as the ending theme.
English Voice Cast
Main Cast
Secondary Cast
Minor Cast