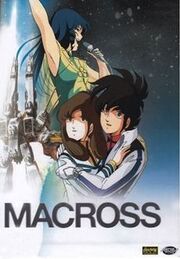 Super Dimension Fortress Macross (超時空要塞マクロス) is an anime series created by Studio Nue. The series ran from October 3, 1982 to June 26, 1983 over 36 episodes.
The series was originally licensed by AnimEigo, who restored the series and released it on DVD with Japanese audio and English subtitles. At first a limited edition pre-order boxset was released on December 21, 2001. Three smaller boxsets, each comprising three discs, were released from September 10, 2002. Finally, Animeigo released 9 individual volumes
The series was then licensed by ADV, who re-released the series with an English dub alongside the original Japanese audio and English subtitles. The seven individual volumes were released between January 10, 2006 and December 19, 2006 and a complete collection followed on October 21, 2008.
English Voice Cast
Main Cast
Secondary Cast
Minor Cast
Additional Voices