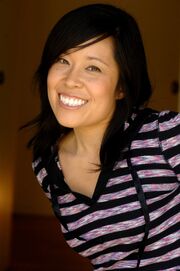 Stephanie Tharam Sheh (born April 10, 1977 in Kalamazoo, Michigan, USA) is an American voice actress, director, scriptwriter and producer working for Attack of the Show!, FUNimation Entertainment, Bang Zoom! Entertainment, Bandai Entertainment, Geneon Entertainment, Sony Pictures Entertainment, Sony Pictures Classics, Urban Vision, Studiopolis, Media Blasters, SDI Media, NYAV Post and Magnitude 8 Post. She is known for voicing Eureka in Eureka Seven, Guu in Haré+Guu, Hinata Hyūga in Naruto, Orihime Inoue in Bleach, Usagi Tsukino/Sailor Moon in Sailor Moon, Illyasviel von Einzbern in Fate/stay night, Nagisa Shiozaki in If I See You in My Dreams, Mamimi Samejima in FLCL, Mikuru Asahina in The Melancholy of Haruhi Suzumiya, Wendy Garret in Gun × Sword, Akira Kogami in Lucky☆Star, Audrey Burne in Mobile Suit Gundam Unicorn, Yui Hirasawa in K-On! and Mitsuha Miyamizu in Your Name.
She also goes by the names Jennifer Sekiguchi, Michelle T. Hseih and Alexi Shi.
Anime Voice Work
Anime - Dubbing
Anime Shorts - Dubbing
Anime Specials - Dubbing
Movies - Dubbing
OVA - Dubbing
Web Anime - Dubbing
Trivia
Number of VA titles on this wiki: (262)
Stephanie has been honored with a nomination for "Best Voice Actress in an Anime Comedy" by the American Anime Awards for her work as Kirie Kojima in Girls Bravo and Guu in Haré+Guu.