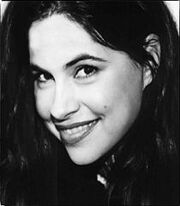 Saffron Henderson
(born September 25, 1965) is a Canadian voice actress and singer.
Anime Voice Work
Anime - Dubbing
Naruto - Kurenai Yūhi (ep3; Cut Dub)
Ranma ½ - Amazon (ep 55), Beauty Girl (ep 56), Blue-Haired Amazon (ep 58), Flier Reader (ep 56), Furinkan Student (ep 56), Kogane Musashi, Neighborhood Kid (ep 146), Seishun Cheerleader (ep 155), Teacher (ep 65), Tsubasa Kurenai, Woman (ep 147)
Zatch Bell! - Sherry Belmont (eps1-85)
OVA - Dubbing
Trivia
Number of VA titles on this wiki: (8)
Community content is available under
CC-BY-SA
unless otherwise noted.