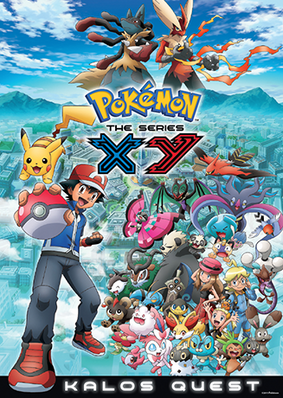 Pokémon the Series: XY Kalos Quest is the 18th season of the long running Pokémon anime. It started in Japan on November 13th, 2014 and ended on October 22nd, 2015. In the US, it started on February 7th, 2015 and ended on December 19th, 2015.
Starring
Voice Characterization
Additional Voices
Rickey Anderson - Keanen
Justin Anselmi - Santo (ep31), Mantle (ep32)
Jo Armeniox - Shauna
Catrin Lloyd Bollard - Olympia
Kira Buckland - Lindsey (ep3)
Carter Cathcart - James, Meowth
Henry Coffey - Lon (ep24)
Nikki Colange - Kali (ep25-26)
Michael Lockwood Crouch - Trevor
Daniel J. Edwards - Dr. White (ep15)
Jenny Emm - Nini
E. James Ford - Count Pumpka (ep33)
Abe Goldfarb - Frank (ep41)
Wayne Grayson - Ornithol (ep29), Dr. Woodward (ep36)
Todd Haberkorn - Tierno
Dina Hawana - Blossom (ep25-26)
Alex Haynes - Talonflame
Carrie Keranen - Beatrice (ep15)
Michele Knotz - Jessie
Brittney Lauda - Katherine (ep25-26), Charlene (ep44-45)
Maggie McDowell - Miette
Vic Mignogna - Saizō (ep4)
Gilles Motais - Monsieur Pierre
Suzy Myers - Linnea (ep25-26)
Samara Nayemi - Jean (ep41)
Lisa Ortiz - Fletchinder, Fletchling, Clarice (ep12), Delilah (ep31)
Jake Paque - Professor Sycamore, Orson (ep29), Count Pumpka's Steward (ep33)
Chris Patton - Sanpei
Andrew Paull - Steven Stone (ep27)
H.D. Quinn - Hawlucha
Kayzie Rogers - Wobbufet
Jonathan Todd Ross - Weston (ep32)
Anthony Haden Salerno - Ramos
Erica Schroeder - Pancham
Robby Sharpe - Sawyer
Lindsay Sheppard - Aria
Jonathan Silver - Alain (ep20)
Eileen Stevens - Fennekin, Braixen
Billy Bob Thompson - Froakie, Frogadier, Greninja
Nicole Wood - Carrie (ep44-45)
Pete Zarustica - Carl (ep2)
Community content is available under
CC-BY-SA
unless otherwise noted.