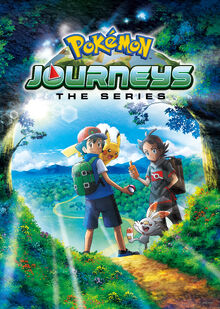 Pokémon Journeys: The Series is a 2019 anime series that serves as the 23rd season of the Pokémon franchise. It premiered in Japan on November 17, 2019. The English dub premiered on Netflix on June 12, 2020, however it aired earlier in Canada on May 9th, 2020, and in the UK on May 25th, 2020.
English Cast
Voice Characterization
Additional Voices
Justin Alfonso - Extras
Justin Anselmi - Bisharp, Ivysaur, Spearow, Venusaur, Extras
Chrisitan Banas - Extras
Sam Black - Scyther, Extras
Kira Buckland - Extras
Tyler Bunch - Extras
Roger Callagy - Extras
Tiana Camacho - Extras
James Weaver Clark - Extras
Nicholas Corda - Oliver (ep20)
Brittany Cox - Sonia
Emily Cramer - Extras
Sandy Fox - Extras
Wayne Grayson - Lance
Jason Griffith - Gurkinn (ep25), Hayden (ep21)
Kyle Hebert - Dan, Kublock (ep19), Extras
Megan Hollingshead - Nurse Joy, Extras
Melissa Hope - Bellsprout, Extras
Xanthe Huynh - Lauren (ep8)
Laurie Hymes - Pelipper, Extras
Emily Jenness - Matori, Officer Jenny
Billy Kametz - Ash's Rotom Phone, Ren, Extras
Danny Kramer - Raihan
Eddy Lee - Extras
Ted Lewis - Giovanni, News Reporter (ep2), Sableye Trainer (ep2), Extras
Mike Liscio - Corviknight Trainer (ep2), Magikarp, Extras
Zoe Martin - Horsea, Jolteon Trainer (ep2), Extras
Amber May - Camille, Extras
Danielle McRae - Halta (ep18)
Erica Mendez - Parker, Extras
Daman Mills - Clawitzer Trainer (ep25), Extras
Xander Mobus - Walker, Stadium Announcer (ep12), Extras
Rob Morrison - Steve (ep18)
Suzy Myers - Jolteon, Extras
Ryan Nicolls - Extras
Lisa Ortiz - Gloom, Korrina (ep25), Talia, Team Rocket's Rotom Phone, Vileplume, Extras
Jake Paque - Rotom Drone, Extras
Ben Phillips - Extras
Mike Pollock - Extras
Griffin Puatu - Shane Seeker (ep14)
H.D. Quinn - Magmar, Scone Man (ep4), Extras
Bill Rogers - Corviknight, Croagunk, Empoleon, Hariyama, Koffing, Magnemite, Sudowoodo, Sableye, Extras
Alyson Leigh Rosenfeld - Hibana (ep7), Taillow, Extras
Michelle Ruff - Nickit Trio (ep4), Extras
Alejandro Saab - Leon
Erica Schroeder - Goh's Rotom Phone, Wobbuffet, Extras
Lipica Shah - Extras
Sean Shemmel - Group Leader (ep14)
Rebeka Thomas - Visquez (ep18)
Billy Bob Thompson - Charmander, Customer (ep4), Garchomp Trainer (ep2), Hodge (ep7), Train Station Man (ep4), Waiter (ep5), Wartortle, Extras
Marc Thompson - Cubone, Dugtrio, Ekans, Farfetch'd, Gengar, Gengar Trainer (ep2), Jaye (ep10), Mankey, Tentacruel, Tony, Extras
Philip Thompson - Extras
Cristina Vee - Ash's Riolu, Chad (ep9), Extras
Cedric Williams - Gengar's Former Trainer (ep16), Visquez's Rotom Phone (ep18)
Jenny Yokobori - Extras
Community content is available under
CC-BY-SA
unless otherwise noted.