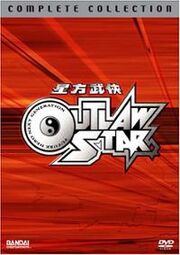 Outlaw Star (星方武侠アウトロースター) is an anime series based on seinen manga series written and illustrated by Takehiko Itō and his affiliated Morning Star Studio.
Sunrise Studios produced a 26 episodes that was directed by Mitsuru Hongo and aired on the Japanese station TV Tokyo in early 1998. The animated series has since been translated and broadcast worldwide. This includes an English version from Bandai Entertainment that received an edited airing on the North American Cartoon Network blocks Toonami in early 2001 and Adult Swim in early 2002. Outlaw Star has been licensed for release in Australia and New Zealand by Madman Entertainment and in Europe by Beez Entertainment.
Critical reception for Outlaw Star has been mostly positive. Many reviewers praised the anime series, particularly its animation style and its balance of dramatic and comedic elements. However, some found fault with the show's pacing, believing that the storyline quality begins to wane after the first few episodes. Sunrise produced a spin-off television series titled Angel Links (星方天使エンジェルリンクス).
English Voice Cast
Uncredited