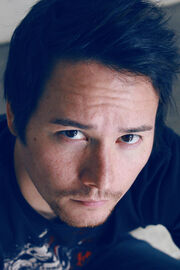 Johnny Yong Bosch (born January 6, 1976 in Kansas City, Missouri, United States) is an American actor, voice actor, martial artist and musician. He is a two-time American Anime Award nominee and was also the lead singer in the band Eyeshine.
He is known for voicing Ichigo Kurosaki in Bleach, Itsuki Koizumi in The Melancholy of Haruhi Suzumiya, Izaya Orihara in Durarara!!, Renton Thurston in Eureka Seven, Lelouch Lamperouge in Code Geass: Lelouch of the Rebellion, Vash the Stampede in Trigun, Yu Narukami and Toru Adachi in Persona 4: The Animation and the video games, Noby Nobita in Doraemon, Jonathan Joestar in JoJo's Bizarre Adventure, Yukio Okumuta in Blue Exorcist, Sanada Yukimura in Sengoku Basara: Samurai Kings, and Hajime Hinata in Danganronpa 3: The End of Hope's Peak High School - Despair Arc.
He also goes under the name Kevin Hatcher.
Anime Voice Work
Anime - Dubbing
Anime Shorts - Dubbing
Anime Specials - Dubbing
Movies - Dubbing
OVA - Dubbing
Web Anime - Dubbing
Trivia
Number of VA titles on this wiki: (180)