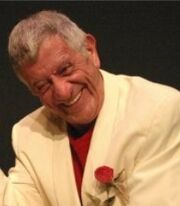 Jerry Russell (January 5, 1936 - September 5, 2013) was an American voice actor working for FUNimation Entertainment.  He died early in the morning of September 5, 2013 due to pneumonia he contracted after an emergency abdominal surgery. He was 77. He was known for voicing Aroldo Eklund in Spice and Wolf II, Froi Tiedoll in D.Gray-Man, Kogan Iwamoto in Shigurui: Death Frenzy, Lamies in Shakugan no Shana III (Final), Ohji in Casshern Sins, Papa in Initial D: First Stage, Saburota Negishi in Princess Jellyfish, Mr. Cho in Witchblade, and Tim Marcoh in Fullmetal Alchemist: Brotherhood.
He was also known as Joe West.
Anime Voice Work
Anime - Dubbing
Anime Shorts - Dubbing
Movies - Dubbing
OVA - Dubbing
Web Anime - Dubbing
Trivia
Number of VA titles on this wiki: (78)
He was the acting teacher of fellow voice actor Barry Yandell.
He founded the Stage West Theatre in Fort Worth, Texas.
He was the father of Texan Senator Wendy Davis.