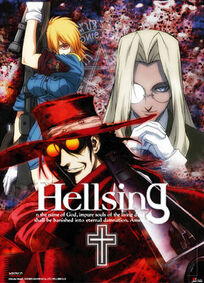 Hellsing (ヘルシング) is an anime based on the Japanese manga series written and illustrated by Kouta Hirano. It was produced by Gonzo and directed by Umanosuke Iida. Spanning 13 episodes, it was broadcast on Japan's Fuji Television from October 10, 2001, to January 16, 2002.
English Voice Cast
Main Cast
Secondary Cast
Minor Cast
Akure Wall - Helena, Nurse A (ep10)
Ananda Banc - Attendant (ep3), Jessica (ep2), Woman Ghoul
Arthur Russell - Chris Pickman (ep9), Harry Anders, Member of Parliament (ep6), Sir Peter Winfield (ep1)
Bang Liang Zheng - Chinese Soldier (ep8)
Bo Chung - Army Soldier
Chris Pooley - Vampire (ep4)
Craig Young - Paul Wilson, TV Newscaster
Gildirt Jackson - Chris Pickman, Subordinate B (ep10)
Hisato Masuyama - Enrico (ep3)
Isaac C. Singleton Jr. - Incognito
J.B. Blanc - Clergyman (ep1), Enrico Maxwell (ep7), Science Expert (ep8)
Jason C. Miller - Army Soldier (ep13), Hellsing Member, Servant (ep12)
Jennifer Sekiguchi - Female Vampire (ep5), Waitress (ep5)
Jerry Chu - Police Officer in Helicopter (ep8)
Jin Horikawa - Test Subject (ep8)
John E. Breen - Anthony (ep2), David (ep5), Lieutenant, Sir Hellsing (ep10)
Josh Phillips - Jan Valentine
Li Xing Qin - Chinese Man (ep8)
Michael Marr - Second Lieutenant Parker (ep9), Sir Islands
Michael Parker - Doctor (ep10), Squad Leader (ep5), Steadler (ep4)
Pam Susslin - Kim, PA Voice (ep3)
Patrick Seitz - Luke Valentine
Paul Roberts - Host Vampire (ep7)
Peter Gail - Gareth
Phillip Reese - Mason (ep7)
Ralph Lister - M15 Chief (ep5)
Roland E. Barrow - Messenger (ep12), Subordinate A (ep10)
Siobhan Flynn - Hellsing Intelligence Operative (ep7), Laura (ep9)
Steven Brand - Doctor (ep3), Paladin Alexander Andersong, Richard (ep10)
Stuart MacLean - Boz (ep4), Kim's Superior (ep4), Sir Penwood
Sue Cremin - Nurse B (ep10), Woman's Voice (ep11)
T. Axelrod - Army Helicopter Pilot (ep13), Army Soldier (ep13), Assistant (ep3), Hellsing Member 1 (ep4), Hellsing Member A (ep7), Jack (ep1), Leif (ep2), Radio Voice (ep12)
Tricia Dickson - Servant (ep12), Young Integra (ep10)
Community content is available under
CC-BY-SA
unless otherwise noted.