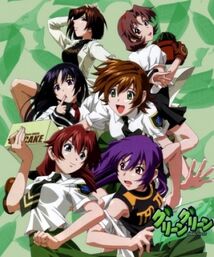 Green Green (グリーングリーン) is a Japanese, 12-episode anime adaptation of the H-game Green Green. While there are no sexually explicit scenes in the first 12 episodes, the series has a strong focus on nudity. A non-canon sequel exists to the story as a thirteenth episode, which was released at a later date. This 'Episode 13' is unlicensed and not included in the US release due to scenes involving sexual acts.
Media Blasters licensed Green Green for distribution in North America, and the first volume was released on May 16, 2006. They have since released the 12 TV episodes on three DVDs, first separately throughout 2006, and then in two different budget collections in 2007 (the original single volumes in a box) and 2009 (the three discs in one "Litebox" case).
English Voice Cast
Main Cast
Secondary Cast
Minor Cast
Uncredited
Community content is available under
CC-BY-SA
unless otherwise noted.