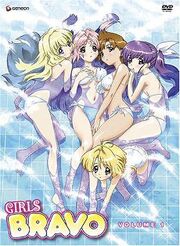 Girls Bravo (Japanese: GIRLSブラボー) is an anime based on the manga written and illustrated by Mario Kaneda. It was directed by Ei Aoki and animated by AIC Spirits, aired in Japan from 2004 to 2005. There are 24 episodes total. The anime series was released in English by Geneon.
Japanese Voice Cast
English Voice Cast
Brandon Nichols - Boy Student A (ep12)
Carrie Savage - Boy B (ep16), Koyomi Hare Nanaka
Chris L. McKenna - Boy Student C (ep12)
Dameon Clarke - Ebi (Monologue) (ep18), Event Staff (ep17)
Dean González - People 2 (ep21)
Doug Stone - Businessman (ep15), Elderly Man (ep16), Old Customer A (ep14), Yaohachi (ep20), Yaoshichi
Elise Baughman - Female Student (ep20), The Girl in Robe (ep17), Yukina
Erica Shaffer - Female Customer A (ep14), Hijiri Kanata, Ryoko Kani (ep13)
Erin Baker - Girl Student A (ep12)
Hunter Mackenzie Austin - Boy A (ep16), Hikage (ep24), Hinata (ep24), Lisa Fukuyama, Machan (ep14)
J.C. Miller - Thug 2 (ep23)
J-Ray - Tomoka Hare Jude
Jay Klein - Guy C (ep21), Killty (ep15), Nakagawa (ep16)
Karen Thompson - Asuha Hare Nanaka (ep21), Ebi, Female Customer B (ep14), Maharu Sena Kanaka, Mamoru's Mother (ep15), Schoolmistress (ep12)
Kristen Amicone - Control Officer (ep23)
Liam O'Brien - Kazuharu Fukuyama
Mike Bento - Boy Student B (ep12)
Patrick Seitz - Big Guy A (ep17), Guy B (ep21), Hayate, Old Customer B (ep14), Thug 1 (ep23)
Lulu Chiang - Kirie Kojima
Michelle Ruff - Miharu Sena Kanaka
Rita Stephens - Light Blue Bear (ep24), Nanae Kuh Haruka, Reporter (ep21)
Robin Rhodpa - Kosame
Sam Regal - Big Guy B (ep17), Drugstore Keeper (ep14), Gang Member (ep16), Mamoru Machida, Paramedic 2 (ep13)
Sergio González - Guy A (ep21)
T. Axelrod - A Student in Takoyaki Shop (ep20), Big Guy C (ep17), Fake Poyon (ep17), Fujii (ep16), Guy D (ep21), Koyomi's Father, Male Student (ep20), Paramedic 1 (ep13), People 1 (ep21)
Terry Ando-Nguyen - Girl Student B (ep12)
Willow Lane - Lilica Stacy
Yuri Lowenthal - Yukinari Sasaki
Uncredited
Community content is available under
CC-BY-SA
unless otherwise noted.