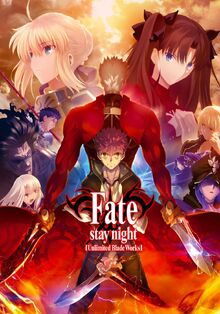 Fate/stay night: Unlimited Blade Works is an action-thriller fantasy anime based on the visual novel Fate/stay night produced by Type-Moon. The plot of the episodes is primarily based on the Unlimited Blade Works storyline in the Fate/stay night visual novel. It is based on the 2010 movie of the same name. The anime is jointly produced by Aniplex, Notes and Ufotable, the same studios that co-produced the 2011–2012 anime adaptation for Fate/Zero.
It was directed by Takahiro Miura, with music composed by Hideyuki Fukasawa, character designs by Tomonori Sudou, Hisayuki Tabata, and Atsushi Ikariya, which are based on the original designs by Takashi Takeuchi; along with art, 3D, and photography directions by Koji Eto, Kōjirō Shishido and Yuichi Terao, respectively.
The first half of the series ran from October 4, 2014 to December 27, 2014. The second half ran from April 4, 2015 to June 27, 2015. An advanced screening online premiered on September 28, 2014 in several countries across the world, including Japan, the United States, France, Germany, Italy and South Korea.
English Voice Cast
Main Cast
Secondary Cast
Minor Cast
Additional Voices (Uncredited)