Eureka Seven Ao (Eureka Seven Astral Ocean)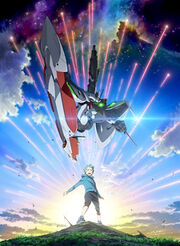 is a mecha anime created by Bones which aired in Japan from April 13, 2012 to November 20, 2012. It's the sequel to the Eureka Seven anime. It was directed by Tomoki Kyoda who also directed the first series.
The English adaption of the series is licensed by FUNimation Entertainment and they will release the English version of the series on Blu-ray and DVD on October 15, 2013.
English Voice Cast
Main Cast
Secondary Cast
Minor Cast
Additional Voices