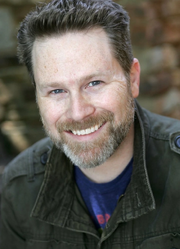 Christopher Eric Johnson Jr. (born April 28, 1974 in Dallas, Texas, United States), better known by his stage name Eric Vale, is an American voice actor, ADR director and scriptwriter who works for FUNimation Entertainment, OkraTron 5000 and Sound Cadence Studios. He is known for voicing Sanji in One Piece, Trunks in Dragon Ball, Kazuma in Noragami, Solf J. Kimblee in Fullmetal Alchemist and Fullmetal Alchemist: Brotherhood, Yuki Sohma in Fruits Basket and Fruits Basket (2019), Nishiki Nishio in Tokyo Ghoul, Tomura Shigaraki in My Hero Academia and Arystar Krory III in D.Gray-Man.
He is married to voice actress Alese Johnson.
Anime Voice Work
Anime - Dubbing
Anime Shorts - Dubbing
Anime Specials - Dubbing
Movies - Dubbing
OVA - Dubbing
Web Anime - Dubbing
Trivia
Number of VA titles on this wiki: (282)
He used "Eric Vale" as a stage name, since an unrelated voice actor had the same surname in the Texan voice actor union.