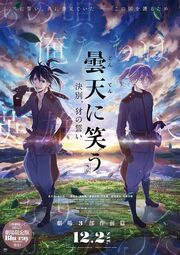 Donten Laughing Under the Clouds Gaiden: Chapter 1 - One Year After the Battle is a 2017 film that serves as a sequel to the Laughing Under the Clouds anime. It premiered in Japan on December 2, 2017. Eleven Arts produced an English dub of the film, which premiered in theaters on August 24, 2018 and was released on home video February 4, 2020.
English Voice Cast
Emily Baudot - Tenka Kumo (Boy), Ashiya's Mother, Boy Villager, Female Villagers, Girl Hostage
John Burgmeier - Ronin Head
Clifford Chapin - Mitsuki Ashiya, Mitsuki Ashiya (Boy)
Colleen Clinkenbeard - Kiiko Sasaki
Terri Doty - Koyuki Kumo, Chutaro Kumo, Chutaro Kumo (Baby)
Alex Eding - Male Villagers, Ronin
Sonny Franks - Zenzo Inukai
Morgan Garrett - Botan
Lee George - Male Thug, Ronins
Jarrod Greene - Yasu Tsuchiya
Greg Lush - Ronin Head
Alex Mai - Male Thug, Male Villager, Ronins
Jaimie Marchi - Nishiki
Patrick McAlister - Male Fuuma Ninja, Male Officer, Male Villagers, Ronins, Ronin Head, Ronin Spy
Robert McCollum - Isuke Fuuma
Joel McDonald - Rakucho Takeda
Mike McFarland - Shi Qian-Lang
Scott Montano - Male Thief, Male Villager
Phil Parsons - Old Man, Male Officer, Male Merchant, Ronin, Ronin Spy
Randy Pearlman - Hideo Kitamura
Ryan Reynolds - Rakucho Takeda (Boy)
Monica Rial - Soramaru Kumo (Boy)
Christopher R. Sabat - Seiichiro Takamine
Micah Solusod - Abe no Hirari
Mark Stoddard - Doctor Ohta
Sonny Strait - Taiko Kumo
Dave Trosko - Soramaru Kumo
Eric Vale - Abe no Sosei
Chris Wehkamp - Tenka Kumo
Credits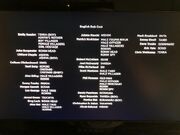 Community content is available under
CC-BY-SA
unless otherwise noted.