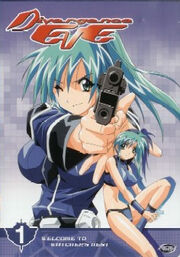 Divergence Eve is a 2003 anime series produced by studio Radix and directed by Atsushi Takada. It aired in Japan from July 2, 2003 to September 24, 2003. ADV Films released the series with an English dub on DVD between March 3, 2005 and June 21, 2005.
English Voice Cast
Main Cast
Minor Cast
Adam Jones - Operator
Allison Sumrall - Comrie Rotblat
Chris Patton - 2nd Lt. Hicock, Platoon Leader
Christine Auten - Luxadara Frail
Emily Carter-Essex - Operator, Susanna Bleustein
George Manley - EU President, Ice Cream Man, Kessler, Mechanic, Moustache, Operator
Greg Ayres - Nodera
Jason Douglas - Jean-Luc Leblanc
Jay Hickman - Bernard Firestar
Jessica Boone - Kiri Marialate
John Gremillion - Luke Walker
John Swasey - Ghoul, Juhzou Kureha, Technical Officer
John Tyson - Wulfgang Woerns
Kaytha Coker - Operator
Luci Christian - Prime Snowlight
Monica Rial - Operator
Rick Burford - Control, Lt. Azevedo, Operator
Rick Piersall - Morozof
Sasha Paysinger - Kotoko-01
Shelley Calene-Black - Lyar Von Ertiana
Sian Taylor - Operator
Tiffany Grant - Announcer, Lt. Yung, Operator
Additional Voices
Community content is available under
CC-BY-SA
unless otherwise noted.