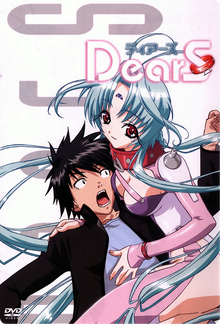 DearS (ディアーズ) is an anime based on the Japanese manga series co-written and illustrated by Banri Sendo and Shibuko Ebara, under the pen name Peach-Pit. It consists of 13 episodes adapted by MSJ and aired between July 10, 2004 and September 26, 2004.
English Voice Cast
Main Cast
Secondary Cast
Minor Cast
Aimée Zannoni - Eiko (eps1-7)
Alex Fink - Tour Conductor (ep7)
Amy Kincaid - Class President
Barbara Goodson - Grandmother, Oihiko's Mother, Taichi (ep9)
Ben Summer - Boy Student B (ep4), Vegetable Man (ep3)
Darrel Guilbeau - No.2
Dave Stann - Tourist (ep7)
Doug Stone - Gen (ep6), Manager (ep12), Oihiko's Father
Hunter MacKenzie Austin - Boy 2 (ep9), Girl (ep8)
J.C. Miller - Cameraman (ep10)
Jack Lingo - Employee A (ep10)
Jane Lingo - Biko
Jennifer Sekiguchi - Natsuki Ikuhara
Jody Jaress - Aunt (ep10), Cheena (ep13), Kuwaoka (ep2)
Justin Gross - Hironobu Nonaka (eps1-4)
Karen Thompson - Boy 1 (ep9)
Kristen Potter - Harumi Ikuhara
Liam O'Brien - Chef (ep11), Employee B (ep10), Miu's Master (ep8), No.3
Maureen Stevenson - Student Announcer (ep4), Uchimura
Michael McConnohie - Butcher, Principal, Uncle
Michelle Ruff - Takeya (Childhood)
Natalie Bergeson - Housewife (ep3)
Patrick Seitz - Boy Student A (ep4), Male Customer (ep10), Xaki
Sam Regal - Assassin (ep8)
Tara Platt - Eiko (eps8-13), Girl (ep2), Girl Student (ep6)
Victoria Harwood - Rubi
William Frederick - Grandfather, Manager (ep6)
Community content is available under
CC-BY-SA
unless otherwise noted.