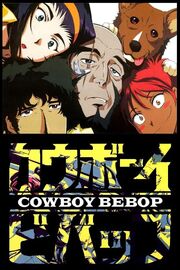 Cowboy Bebop (カウボーイビバップ) is a 1998 Japanese anime series developed by Sunrise. It featured a production team led by director Shinichirō Watanabe, screenwriter Keiko Nobumoto, character designer Toshihiro Kawamoto, mechanical designer Kimitoshi Yamane, and composer Yoko Kanno.
The series premiered in Japan on TV Tokyo from April 3 until June 26, 1998, broadcasting only twelve episodes and a special due to its controversial adult-themed content. The entire twenty-six episodes of the series were later broadcast on WOWOW from October 24 until April 24, 1999.
The anime series was dubbed in the English language by Animaze and ZRO Limit Productions, and was licensed by Bandai Entertainment in North America and is now licensed by Funimation. For English releases in the United Kingdom, it was licensed by Beez Entertainment and is now licensed by Anime Limited. Madman Entertainment has licensed it for releases in Australia and New Zealand. In 2001, Cowboy Bebop became the first anime title to be broadcast on Adult Swim in the United States.
English Voice Cast
Main Cast
Secondary Cast
Minor Cast
Additional Voices