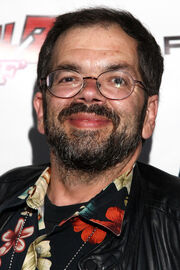 Christopher Owen Ayres (born on May 16, 1965) is an American voice actor who works for ADV Films, FUNimation Entertainment and Seraphim Digital. He is the older brother of Greg Ayres.
He is known for his roles as Frieza in Dragon Ball Z Kai and Soma Asman Kadar in Black Butler.
Anime Voice Work
Anime - Dubbing
Anime Shorts - Dubbing
Anime Specials - Dubbing
Movies - Dubbing
OVA - Dubbing
Web Anime - Dubbing
Hetalia: Axis Powers - Scotland, Additional Voices
Intrigue in the Bakumatsu - Irohanihoheto - Captain (ep 6), Customer 1 (ep 15), Gengo Koga (ep 21), J. Brunet, Kenzo Tamoto (ep 24), Kyunosuke Masumitsu (eps 5, 7), Magozo Saiga, Masujiro Omura (eps 9-10), Mita (ep 18), Old Man 1 (eps 25-26), Samurai 2 (eps 2, 8), Tengu Warrior 3 (eps 5-6), Tesshu Yamaoka (ep 1), The Head of the Conqueror (eps 25-26)
Xam'd: Lost Memories - Kayak Peddler (ep19), Kisel-ji
Trivia
Number of VA titles on this wiki: (195)
Community content is available under
CC-BY-SA
unless otherwise noted.