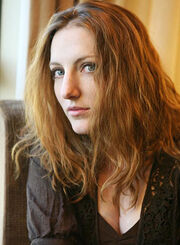 Caitlin Tiffany Glass (born November 16, 1981 in Washington, D.C., USA) is an American voice actress, ADR director and script writer at FUNimation Entertainment, New Generation Pictures and Bang Zoom! Entertainment, who provided voices for a number of English versions of Japanese anime series, and video games.
She's known for voicing Miria Harvent in Baccano!, Winry Rockbell in Fullmetal Alchemist, Nefertari Vivi in One Piece, Haruhi Fujioka in Ouran High School Host Club, Kyōko Kirigiri in Danganronpa: The Animation, Eleanora "Elen" Viltaria in Lord Marksman and Vanadis, Satellizer el Bridget in Freezing, Rose in Tales of Zestiria the X and Hitomi Kanzaki in the Funimation Dub of The Vision of Escaflowne.
She's married to voice actor Tony Patterson.
Anime Voice Work
Anime - Dubbing
Anime Shorts - Dubbing
Anime Specials - Dubbing
Movies - Dubbing
OVA - Dubbing
Web Anime - Dubbing
Trivia
Number of VA titles on this wiki: (341)