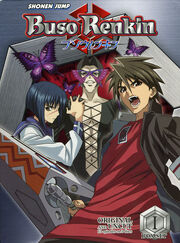 Buso Renkin is an Anime based on the Manga created by Nobuhiro Watsuki. The series is directed by Takao Kato and produced by Xebec. It originally runned from October 4, 2006 to March 28, 2007. The English dubbed version is produced by Viz Media.
English Voice Cast
Caroline Kinsolving - Hanabusa
Cindy Robinson - Mayumi Hayasaka, Saori Kawai, Victoria
Danny Katiana - Genji Ikusabe, Sailor (ep22)
Darrel Guilbeau - Kouji Rokumasu
David Keefir - Masashi Daihama, Mita
David Paulson - Shosei Sakaguchi
Deborah Sale Butler - Chitose Tateyama
Dick Smallberries Jr. - Shusui Hayasaka
Doug Erholtz - Shinobu Negoro
Karen Strassman - Mahiro Muto
Kirk Thornton - Shishaku Chouno
Kyle Hebert - Kinjo, Sekima Hiwatari
L.C. Curci - Oka Hayasaka
Liam O'Brien - Gota Nakamura, Hideyuki Okakura
Melora Harte - Chisato Wakamiya
Patrick Seitz - Captain Bravo
Richard Epcar - Narrator, Saruwatari
Sam Regal - Madoka Maruyama
Spike Spencer - Koushaku "Papillon" Chouno
Steve Cannon - Kazuki Muto
Tara Platt - Tokiko Magami
Tom Anthony - Captain of the Deep Blessing (ep21), Officer (ep22)
Tom Gibis - Jinnai, Jirou Chouno
Yuri Lowenthal - Victor, Washio
Uncredited
Community content is available under
CC-BY-SA
unless otherwise noted.