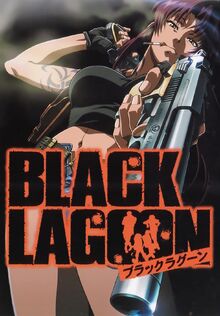 Black Lagoon is a 2006 anime based on the manga series by Rei Hiroe. It ran in Japan from April 9, 2006 to June 25, 2006. Geneon Entertainment produced an English dub of the series, which was first distributed on DVD from May 22, 2007 to September 18, 2007.
English Voice Cast
Main Cast
Secondary Cast
Minor Cast
Adrian Holmes - Rowan (ep7)
Alec Willows - Bao
Alistair Abell - Kageyama's Son (ep2), Luak (ep3), Mayer, Pirates (ep3), Soldier (ep4)
Andy Toth - Cartel Man 1 (ep8), Cartel Members (ep9), Chinese Man 2 (ep8), Neo Nazi Soldier 1 (ep5)
Brian Dobson - Kruppen Feller, Officer (ep6)
Brian Drummond - Captain Ahbe (ep4), Cartel Members (ep9), Chinese Man 1 (ep8), Pirates (ep3)
Clay St. Thomas - CIA Agent 1 (ep12), TV Reporter (ep11)
Dale Wilson - Watsap (ep7)
Eli Gabay - Neo Nazi Soldier 2 (ep6)
French Tickner - Alfred (ep6)
Hiro Kanagawa - Colonel Matsuto (ep4), Fujiwara, Myna Bird (ep3)
John Novak - Cargo Ship Captain (ep2), Sonar Operator (ep4)
Lisa Ann Beley - Eda (ep7)
Louis Chirillo - Chin (ep3), Pirates (ep3), Storm (ep1)
Mark Acheson - Boris, Neo Nazi Soldier 2 (ep5)
Marÿke Hendrikse - Kageyama's Daughter (ep2)
Michael Dobson - Cartel Man 2 (ep8), Spielberger (ep4), Vice President
Paul Dobson - E.O. Captain
Richard Newman - Managing Director (ep1), Menchov (ep9), Rachmann
Ross Douglas - Kageyama
Saffron Henderson - Shenhua
Scott McNeil - Chinese Man (ep1), Verrocchio (ep3)
Shirley Milliner - Sister Yolanda (ep7)
Tabitha St. Germain - Girl (ep3), Kageyama's Wife (ep2), Parrot (ep7), Shop Woman (ep1)
Ted Cole - Japanese Man (eps11-12), Triad Member (eps11-12)
Trevor Devall - Cartel Members (ep9), Leigharch, Neo Nazi Soldier 1 (ep6), NGO Worker (ep7), Thai Man (ep8)
Viv Leacock - CIA Agent 2 (ep12)
Community content is available under
CC-BY-SA
unless otherwise noted.