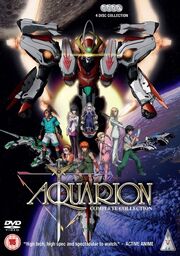 Aquarion, known as Genesis of Aquarion (創聖のアクエリオン) in Japan, is an anime TV series written and directed by Shoji Kawamori, produced by Satelight.
The science fiction series is a homage to the Super Robot shows of the 1970s and 1980s, executed with modern animation techniques and aesthetics. Set in the future, a giant fighting machine called the Aquarion is humanity's only effective weapon in the fight against the technologically advanced species called the Shadow Angels.
Aquarion aired from April 4, 2005, to September 26, 2005, on TV Tokyo. An alternate retelling of the television series, the Genesis of Aquarion OVA, premiered on May 25, 2007. The television series is licensed in North America by Funimation while on the 14 February 2006 it aired on MTV Italia.
English Voice Cast
Main Cast
Secondary Cast
Minor Cast
Additional Voices