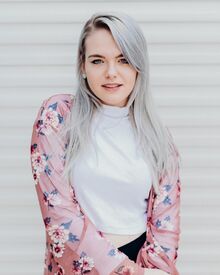 Amanda Lee (born March 13, 1992), known by her stage name AmaLee, is an American singer and voice actress. She is known for her roles as Itsuwa in A Certain Magical Index III, Zero in Grimoire of Zero, Mikochi in Hakumei and Mikochi, Junko Konno in Zombie Land Saga, Mio Suguri in Anonymous Noise and Ai Hayasaka in Kaguya-sama: Love is War.
Anime Voice Work
Anime - Dubbing
Movies - Dubbing
OVA - Dubbing
Web Anime - Dubbing
Trivia
Number of VA titles on this wiki: (101)
She has a YouTube channel where she covers Japanese songs in English under the name "LeeandLie".